Get your Startup off the Ground
Taking place under the umbrella of the World Satellite Business Week, Finspace is more than just an award.
It is making outstanding innovation visible to a wide global audience and provides shortlisted companies with a forum to test their concept and go-to-market strategies, exchange best practices and make invaluable connections with investors, decision-makers and peers representing the industry's key players from 50+ countries.
Demonstrate your innovative business model and technology and win a chance to increase your visibility and unlock unique growth opportunities for your business through:
Global recognition: connect with 1,500+ key industry leaders from 50+ countries representing the entire space and satellite ecosystem
Expand your network: shortlisted candidates will receive a complimentary badge to attend the World Satellite Business Week and its subsequent Summits together with networking and social events (full access badge value €3,480).
Take the stage: shortlisted candidates will be invited to pitch their ideas on the WSBW stage and showcase their business projects in front of the industry's top leaders and investors
Sharpen your decision-making: Euroconsult will provide the 2

winners

with a market intelligence product of their choice (valued €5,000 each)
Applications open: March 15, 2023
Application close: June 30, 2023
Jury evaluation: July 2023
Shortlisted invited to WSBW 2023 announcement: August 2023
Pitch: September 11-15, 2023 
Space Business Catalyst is an industrial accelerator dedicated to the space sector, created by Thales Alenia Space in 2023. 
Space Business Catalyst supports intrapreneurs and startups in their growth phase, helping them to define and implement their industrialization strategy. Our aim? To encourage the emergence of new solutions, generate technological breakthroughs and find new avenues of development for existing solutions.
Based in Toulouse and Turin, Space Business Catalyst offers 400 square meters of space, and is already home to a dozen startups and intrapreneurs from all over the world. In collaboration with entrepreneurship experts, Thales Alenia Space has designed a support program that offers technical, commercial, relational and financial support to project initiators, giving them the opportunity to innovate within an ecosystem at the cutting edge of the sector.
Space Business Catalyst is also part of Thales Alenia Space's Space For Life vision, integrating projects that are particularly attentive to the development of responsible solutions for a sustainable space and life on Earth, such as modular space infrastructures or the contribution of space to sustainable finance.
This year, Space Business Catalyst will be presenting an award to an inspiring startup.
What to expect from this award ?
This award will give the startup access to the full range of our support services, including technical, business & prototyping support. The startup will receive 6 months of tailor-made support for its growth and exposure to the entire Space Business Catalyst and Thales Alenia Space ecosystem.
Each year over 130 companies from across the world are reviewed and analyzed by Euroconsult's team of sector experts together with partner organizations and invited to apply to the competition. Shortlisted companies are evaluated and selected based on the assessment of qualitative criteria, including innovation, existing and future customer base, amount of capital raised, level of maturity and market approach.  
Upon the judges' evaluation and selection, 6 startups will be invited to pitch their products and/or business ideas during the 2023 edition of the World Satellite Business Week, taking place from September 11-15 in Paris and online worldwide.  
Shortlisted startups will be invited to pitch on the event stage as part of the WSBW's official program between 11-15 September 2023. Taking the stage between plenary sessions, panels and fire side chat interviews, entrepreneurs will be provided with a unique exposure to the WSBW delegates.
Following their pitch, during the Summit for Satellite Financing or the Summit on Earth Observation Business, upon jury evaluation two winners will be unveiled as part of a live Award ceremony.   
Interested applicants should submit their entries for the 7th edition of Finspace between March 15 – June 30, 2023 by using the below form. 
The companies must be independently owned. They may not be subsidiaries of larger companies, or function as non-profit divisions of government organizations.   
Finspace awards companies under the umbrella of "Satellite Imagery and Analytics", as well as the "Satcom & Connectivity" categories, allowing industry leaders to discover the up-and-coming innovators in core areas of the satellite value chain, from satellite signals acquisition to downstream applications and distribution.
Finspace accepts applications from a broad area of market sub-segments, such as:
Satellite operators
Value-added services
Subsystems and components
Ground segment
Satellite manufacturer
Access to space
The above categories are not exhaustive and are meant to only guide your application process. Every emerging commercial player of the satellite industry is welcome to apply for Finspace!  
Meet the Finspace Competition Judges
Managing Director
Seraphim Capital
Managing Partner
Promus Ventures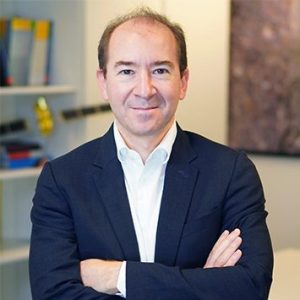 Meet the Previous Finspace Winners
"We are truly honored to receive this recognition and we would like to express our gratitude to all concerned. The biggest honor goes to the team who supported the company to attain its overwhelming success over the past few years. We will continue striving to make the space more accessible by providing a greener, reliable and sustainable solution for spacecraft mobility."
Space Business
Catalyst Award
"Celebrating today, we are deeply honoured to receive the Space Business Catalyst Award from Thales Alenia Space. This accolade marks the inception of a transformative, enduring partnership, highlighting the pivotal role Space DOTS is set to play in shaping the future of the in-space economy. At Space DOTS, our mission is to redefine the conventional approach to material testing for space missions, laying the groundwork for a sustainable circular space economy. We extend our heartfelt gratitude to Thales Alenia Space for this remarkable recognition. And we are proud of our relentless team and steadfast investors who have all contributed to this incredible achievement. With great anticipation, we look ahead to the journey before us, as we collaboratively steer the space industry towards unprecedented evolutions."
Bianca Cefalo, CEO and Co-founder 
"We are grateful to Finspace startup and its jury for giving us this recognition in front of global key partners and clients. This award goes first to the exceptional team of The Exploration Company which mixes experienced, innovative, and hard-working minds & energies to deliver our spacecraft on time, cost and quality"
Helene Huby, Co-Founder & CEO
Satellite Imagery
& Analytics
"Miratlas is very honored by this award and wants to thank the jury of space experts and Euroconsult for choosing us. 2022 is a turning-point year for us, as it has seen our lastest funding operation and this recognition. Miratlas focuses on atmospheric characterization and enables laser communication between earth and space, quantum key distribution, space situational awareness, climate change monitoring and much more. Our solution allows new space players considerable savings during the deployment and operations of the laser and quantum communication infrastructures. We are enabling the new chapter of laser satellites communication (Fibre in the Sky), extending the high-capacity terrestrial networks anywhere in the world."
Jean-Edouard Communal, CEO and co-founder
"The space sector, and more specifically the satellite sector, is undergoing a revolution. We see this prize not only a a Sateliot recognition but also a sign that the satellite sector is ready for the next step forward… the raising of standard solutions lead by SATELIOT 5G NB-IoT LEO satellite constellation that will effectively connect anywhere 5G NB-IoT standard devices directly from space"
Satellite Imagery
& Analytics
"All of the Finspace pitches this year were of incredibly high quality and we are honoured to have been chosen by the judging panel. We see this as a win for an exciting and inspiring future for the satellite business."
Satellite Imagery
& Analytics
Satellite Imagery
& Analytics
Most Innovative
Technology
Rafael Jordá Siquier
CEO of Open Cosmos
Become a Finspace Sponsor
Making a positive impact on the space and satellite industry, gaining access to an executive level network, and enhancing your brand are just a few of the perks of joining forces with Euroconsult's Finspace competition.
Pooling together industry leaders and investors, by becoming a FinSpace partner you:
Play an active role in identifying, elevating and accelerating the growth of the sector's early-stage startups
Get valuable insights into up-and-coming technologies & business ideas
Facilitate knowledge transfer and mentorship
Connect to a world-class network of industry experts and decision-makers