Get your Startup off the Ground
Taking place under the umbrella of the World Satellite Business Week, Finspace is more than just an award.
It is making outstanding innovation visible to a wide global audience and provides shortlisted companies with a forum to test their concept and go-to-market strategies, exchange best practices and make invaluable connections with investors, decision-makers and peers representing the industry's key players from 50+ countries.
Demonstrate your innovative business model and technology and win a chance to increase your visibility and unlock unique growth opportunities for your business through:  
Global reach: connect with 1,000+ key industry leaders from 50+ countries representing the entire space and satellite ecosystem
Expand your network: shortlisted candidates will receive a complimentary badge to attend the World Satellite Business Week and its subsequent Summits together with networking and social events (full access badge value €3,400).
Take the stage: shortlisted candidates will be invited to pitch their ideas on the WSBW stage and showcase their business projects in front of the industry's top leaders and investors
Sharpen your decision-making: Euroconsult will provide 2 finalists with a market intelligence product of their choice (valued €5,000 each)
Each year over 130 companies from across the world are reviewed and analyzed by Euroconsult's team of sector experts together with partner organizations and invited to apply to the competition. Shortlisted companies are evaluated and selected based on the assessment of qualitative criteria, including innovation, existing and future customer base, amount of capital raised, level of maturity and market approach.  
Upon the judges' evaluation and selection, 8 startups will be invited to pitch their products and/or business ideas during the 2022 edition of the World Satellite Business Week, taking place on September 12-16 in Paris and online worldwide.  
Shortlisted startups will be invited to pitch on the event stage as part of the WSBW's official program between 12-16 September 2022. Taking the stage between plenary sessions, panels and fire side chat interviews, entrepreneurs will be provided with a unique exposure to the #WSBW delegates.
Following their pitch, during the Summit for Satellite Financing or the Summit on Earth Observation Business, upon jury evaluation two winners will be unveiled as part of a live #WSBW Award ceremony.  
Interested applicants should submit their entries for the 6th edition of Finspace between April 18 – June 30, 2022 by using the below form. 
The companies must be independently owned. They may not be subsidiaries of larger companies, or function as non-profit divisions of government organizations.   
Finspace awards companies under the umbrella of "Satellite Imagery and Analytics", as well as the "Satcom & Connectivity" categories, allowing industry leaders to discover the up-and-coming innovators in core areas of the satellite value chain, from satellite signals acquisition to downstream applications and distribution.
Finspace accepts applications from a broad area of market sub-segments, such as:
Satellite operators
Value-added services
Subsystems and components
Ground segment
Satellite manufacturer
Access to space
The above categories are not exhaustive and are meant to only guide your application process. Every emerging commercial player of the satellite industry is welcome to apply for Finspace!  
Meet the Finspace Competition Judges
Managing Director
Seraphim Capital
Managing Partner
Promus Ventures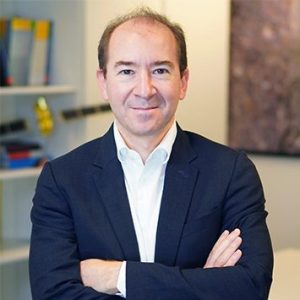 Meet the Previous Finspace Winners
"The space sector, and more specifically the satellite sector, is undergoing a revolution. We see this prize not only a a Sateliot recognition but also a sign that the satellite sector is ready for the next step forward… the raising of standard solutions lead by SATELIOT 5G NB-IoT LEO satellite constellation that will effectively connect anywhere 5G NB-IoT standard devices directly from space"
Satellite Imagery
& Analytics
"All of the Finspace pitches this year were of incredibly high quality and we are honoured to have been chosen by the judging panel. We see this as a win for an exciting and inspiring future for the satellite business."
Satellite Imagery
& Analytics
Satellite Imagery
& Analytics
Most Innovative
Technology
Rafael Jordá Siquier
CEO of Open Cosmos
Become a Finspace Sponsor
Making a positive impact on the space and satellite industry, gaining access to an executive level network, and enhancing your brand are just a few of the perks of joining forces with Euroconsult's Finspace competition.
Pooling together industry leaders and investors, by becoming a FinSpace partner you:
Play an active role in identifying, elevating and accelerating the growth of the sector's early-stage startups
Get valuable insights into up-and-coming technologies & business ideas
Facilitate knowledge transfer and mentorship
Connect to a world-class network of industry experts and decision-makers